Ankie Petersen wins the 1st-quarter prize of 2018 with her study "Contested Heritage: European cases in architecture and urban planning"
Heritage sites play an important role in the collective processing of significant historical events and in shaping a unique cultural identity. This is as true for Europe as anywhere else. The European Union has been built on values such as freedom, democracy and respect for human rights. In order to fully appreciate the significance of these values, it is essential to preserve aspects that keep memories of the past alive, so that we may build on the past and secure a fair and just future.
"Contested Heritage: European cases in architecture and urban planning" aims to make a substantial contribution to the research on Fascist architecture and urbanism in Italy. The built heritage left by various totalitarian regimes and historic European conflicts – whether presented in museums or looking at the preservation, erection and design of buildings and commemorative sites – will be studied and subjected to comparative analysis in relations to sites in Rome.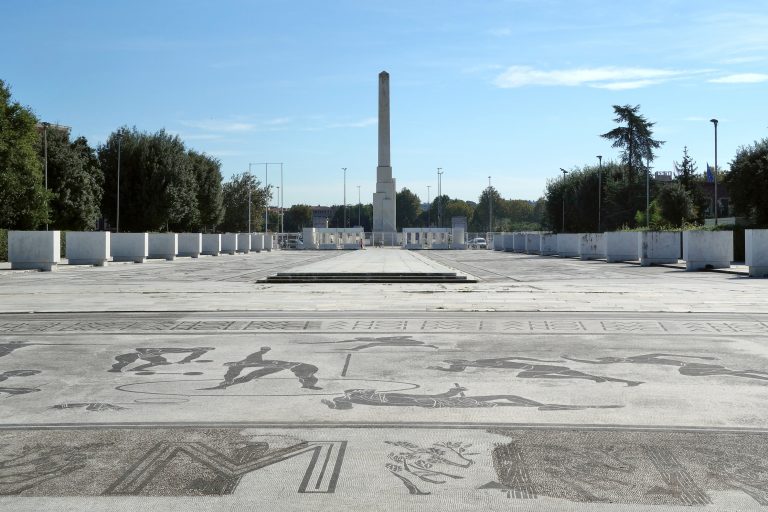 Fascist architecture in Rome. It concerns the location Foro Italico.

The primary research focus is on how a collective memory – as manifested through the physical places resulting from Mussolini's Fascism – developed and how this was processed at different levels of society and by diverse social groups. In addition, how the processes of commemoration in Italy compare to other European countries will also be studied.
Specific, transnational goals are an explicit part of the current European community. The European Union wishes to increase the awareness of a shared history and its shared values, in order to affect peace, democracy, reflection, a healthy debate and sustainable future development.
The results of this independent study will be published on the renewed website of OLDNEWS in the autumn. The study will also be published as a chapter in The Afterlife of Fascism. The Reception of Modern Italian Architecture and Urbanism by the University of Oklahoma Press. The platforms ArchiNed  and Failed Architecture will translate and post articles from this publication.
About the winner: 
Ankie​ Peterson is an architectural and urban historian with a special interest in urban development, ​cultural heritage and political themes. She is a writer, researcher and project manager with her own consultancy business: OLDNEWS – cultural heritage & urban development. She has worked at the Vrije Universiteit Amsterdam, the International New Town Instituut, the Association for Dutch Architects BNA and, from time to time, is a correspondent for ArchiNed.
We wish Ankie all the best in bringing her project to fruition!