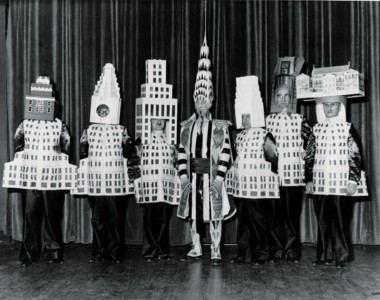 Flirtation
Perhaps one of the most well-known, and equally most literal examples of an assimilation of architecture and fashion is a famous photograph taken at the Ball de Beaux Arts in New York in 1931 during the Great Depression. Seven architects are dressed-up in versions of their most recent architectural creations. It was both an hilarious and optimistic expression to the public of the latest architectural ideas and of a belief in the future. This manifestation was not so much a fashion statement as a flirtatious presentation, yet illustrates how the ostensible contrast between the two arts is less distinct than at first seems.
Architecture and fashion both seek to serve the most basic human needs. If clothing provides the most primary protection to our vulnerable bodies, then shelter too is a necessity of similar quality. Fundamentally, it is only a difference in scale: clothing is worn close to the skin while a building is worn more spaciously. This may be the common ground that underlies the powerful attraction between the two disciplines. In any case, it is indisputable that both architecture and fashion have become representative and formidably communicative, seductive mediums of expression, and are therefore also exceptionally sensitive to the spirit of their times. Reciprocal influences are inevitable.
The continuous flirtation between the two fields has resulted in a broad range of products whose variety is founded on shared fascinations and sources of inspiration as well as a back-and-forth borrowing and imitation of concepts. Fashion houses consciously commission famous architects for their flagship stores and then the architects design shoes and other accessories. Buildings that flow like drapery, wholly or partly, and walls that merge with floors as though they are one, are no longer exceptional. Fashion is constantly experimenting with new materials and shapes that take on an almost architectural quality in their structure and volume. And many fashion designers take on projects to upholster entire interiors.
Yet, it is primarily fashion designers who venture into the field of the visual arts and who quite literally reference architectural forms. Rotterdam-based designer Marga Weimans opened the 2012 Fashion Week with her City Life collection which showed models in near-architectural constructions on the catwalk. She debuted in 2009 with a printed fabric dress that incorporated the image of residential flats as seen from her atelier.
Armeni has seduced us now with the promise of representing Rotterdam, city of architecture, art, culture and fashion, during a fashion event in Moscow. Through her Dutch and Armenian architecture inspired collection, she will be putting Rotterdam on the map. On the basis of her previous work, we do not expect to see 'De Rotterdam', 'New Orleans' and 'Montevideo' parading on the Russian catwalk in April. How her flirtations with architecture will take shape within her collection is still a guarded secret.
We believe her inspiration will not translate into a literal interpretation and this has made us curious and excited to see the end result.
Dikkie Scipio for FGF
Rotterdam, first quarter 2014